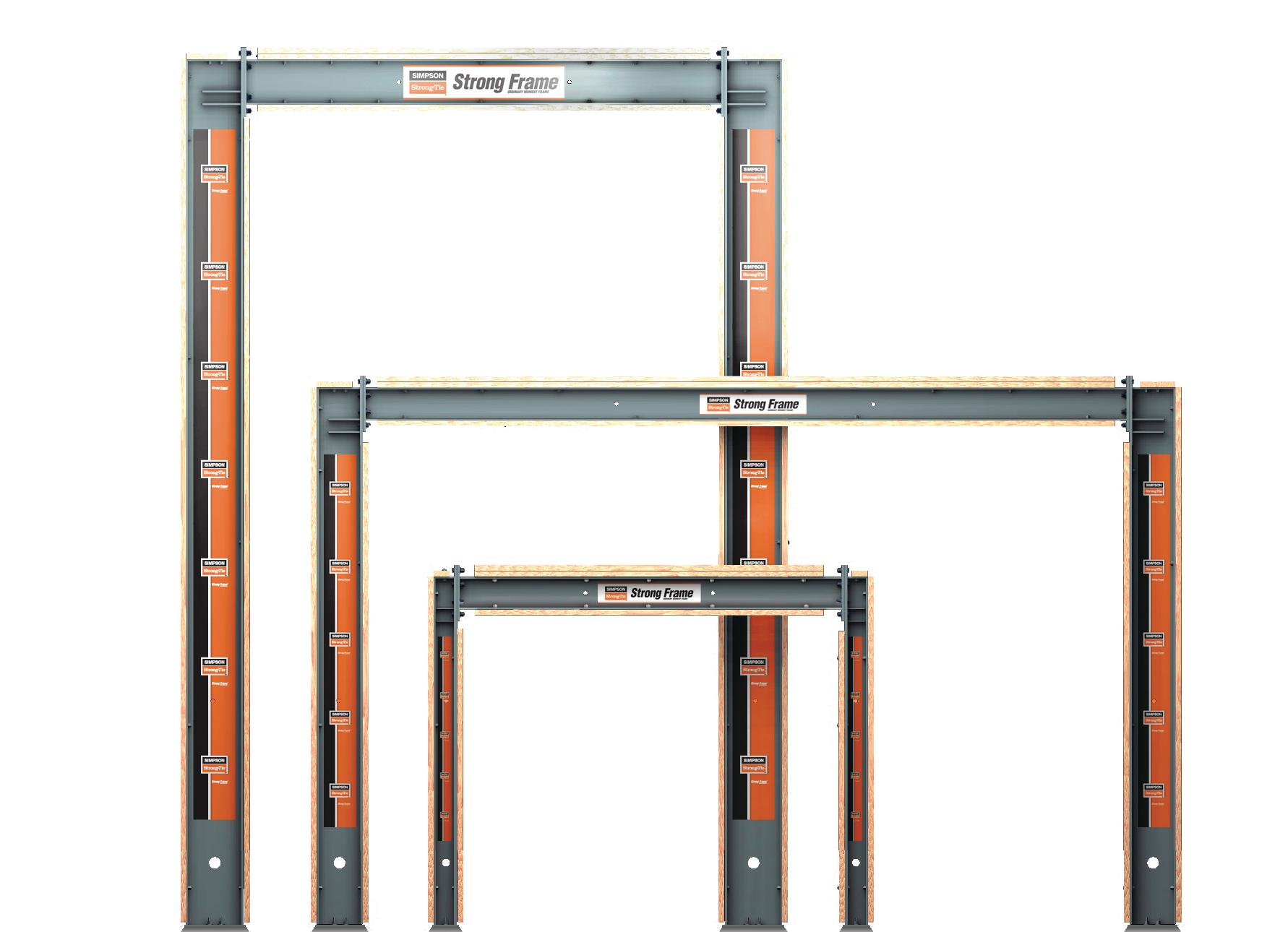 Moment Resisting Frame Systems
There are times when the designer or owner like to incorporate wide openings into the structure. This is great from an aesthetical point of view but structurally it severely damaged its ability to sustain heavy lateral and vertical loads. In this scenario, a system of connected beams and posts can be used to create a more rigid wall by using a "Moment Frame System". These systems are what keep these buildings from coming apart during our common California earthquakes or in strong wind areas. In the early stages of your project it is important that your structural engineer identifies any areas that will require a structural stability system, this in order to avoid any catastrophic events in the lifetime of the building. Here is an example of how a moment frame maintains everything together:
There are many different ways of constructing a moment-resisting frame, and it can either be built on site or pre-manufactured by companies like Simpson or HardyFrame. The nice thing about purchasing a system from this companies is that they take the majority of the guesswork and liability away from you, as normally the only thing to be done by the contractor is to properly install the system using the manufacturer provided instructions. The architect or structural engineer in charge of your project will provide them with the required specifications, and a team of experienced engineers and builders do the rest. Giving the job site a cleaner and safer environment is that there is no welding or special tools needed, as well as saving you some money being than fewer man-hours are focused on one task. There are single-story or multi-story frames which can accommodate multiple types of framing systems like balloon or platform framing and others. Normally installation can be completed using normal job site tools and can take as little as one (1) hour on new construction. Here is a time-lapse of a Simpson Moment-Frame System Installation:
Moment frame systems can be built from a variety of different materials, but most commonly they are constructed using steel members. For timber framing hybrid systems of steel and wood are built to allow for easier on-site installation by the framing contractor. These moment-resisting frames are commonly attached by special plaques and heavy-load bolts that will support the required weight but that as well are designed to fail in events of heavy loads. This is to minimize the cost of repairing or restoring the structure after a big event like an earthquake. Think about these special plates as a fuse, when they are overloaded, they brake and instead of replacing the entire system well you just have to buy a new fuse and reinstall it. Of course, it is not as easy to replace, but it is way more affordable than having to replace the entire moment frame system as that will created a vast intrusion into the surrounding areas.
If your new construction building or remodel project requires you to install a moment frame, give us a call so that we can assist you with the process. Our experienced professional framing team has the ability and knowledge to properly put this important piece of the puzzle together. We can be reached at (619) 882 -9309 or via our Online Contact Page.