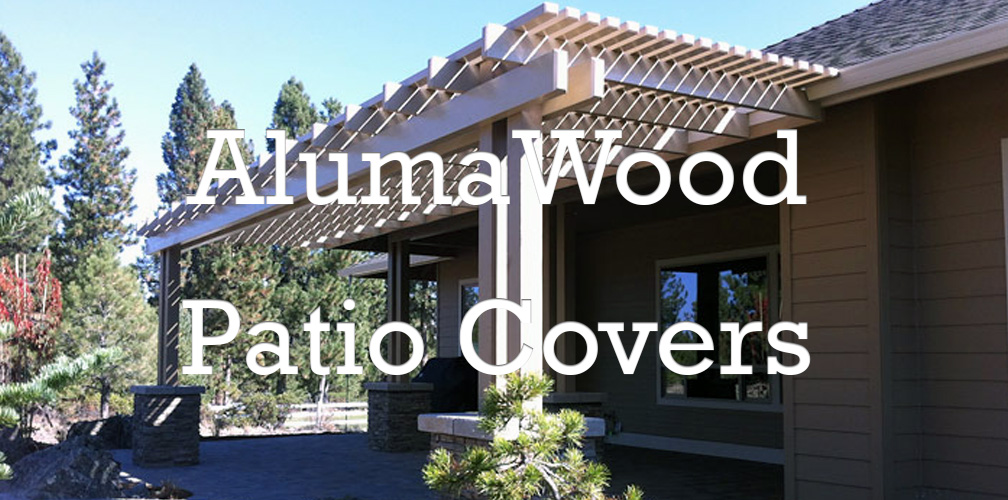 AlumaWood Patio Covers
A patio cover is a perfect way to extend your usable and living space to the exterior of your home. Whether you are just having a quiet moment to yourself, a family barbeque or giving your children a place to play, you know that your patio cover from GC Framing and AlumaWood from Amerimax will provide you protection from the sun, rain, hail and other elements. Enjoy the outside of your home, add extra living space and increase the value of your home without breaking the bank.
What type of patios are available?
Fully Covered

Thermally insulated roof panels available (optional)

Maxx Panel™ insulated roof system

Painted aluminum embossed finish with 8″ Plank Design – This durable dual-layer system provides a superior finish that resists scratches, corrosion, and fading. It also requires less maintenance than most other finishes.
Integrated Aluminum Fan Beam – Made of extruded aluminum and is surrounded on all sides by foam for better lamination and to reduce telegraphing.
Cedar embossed texture – Provides an aesthetically pleasing natural wood appearance with low maintenance requirements. (Available in standard and plank appearance.)
High-density structural roof thermal foam – Specially formulated Expanded Polystyrene (EPS) core provides exceptional thermal insulation and strength.
Laminated panel technology – Provides a panel with superior strength and resistance to weathering.

Roof panel skin thickness varies from 0.018" to 0.032"
Waterproof System

Partially Covered Shade Structures

1½"x1½", 2"x2" or 2"x3" Lattice Options

High-Quality Patio Covers Every Time

Heavy header-beam construction
Richly textured wood finish
Seven popular designer colors

White
Mojave Tan
Desert Sand
Latte
Adobe
Sonora Beige
Spanish Brown

Durable Aluma-ShieldSM paint system with TEFLON® for long-term gloss retention
Fasteners in matching colors
Four style options for beam and rafter end cuts
Patented Gutter Guard system to prevent debris build up in your structure's gutters
What are some additional options I could add-on?
Fan Installation Kit
Light Hanging Kit
Amerimax Columns

Weather-resistant, insect-proof, and low maintenance, an Amerimax Column make the perfect addition to your Alumawood® Shade Structure.

Steel Beams (to allow wider spans)
Lightstrip

The LightStrip® is an ingenious, innovative, patented product new to the aluminum patio cover industry. For the first time, you can have recessed lighting built into your aluminum patio covers with The LightStrip® Recessed Lighting System!
What are some of the benefits of an AlumaWood vs a Wood (timber) patio cover?
Termite Proof
Longer Lasting
Easy Installation on Concrete Slab or on Dirt
More Energy Efficient
Waterproof cover without the necessity of adding a roofing membrane
Limited Lifetime Warranty
What is the average cost of an AlumaWood Patio Cover?
The cost of an AlumaWood patio cover, as with any other patio cover system varies greatly from project to project. The size and style of the patio cover play a big role in cost as well as the difficulty of installation. You can get a 6'x10' partially shaded patio cover starting at under $1,000 + tax on materials plus another $1,000 on installation fees (this are just sample number that can change at any time with no advance notice). However, as the mentioned price will differ for your project as every patio cover and installation solution is customized for each customer and their property.
How is the installation procedure?
It is easier than building a regular timber patio cover from scratch. Being that the patio covers come already pre-cut and with all the hardware and fasteners that are required, it is just a matter of organizing the materials, preparing the structure and installing the patio cover. This as well makes it a more affordable, less labor-intense solution as you do not need highly experienced carpenters for as many hours as with a custom patio cover.
Do you need a permit?
Every situation varies depending greatly in your location. In San Diego you do not need a permit if the patio cover is 300 sq. ft. or less, it can be attached or detached. However, in cities like Chula Vista and Coronado, you do need a permit for any patio cover you build no matter the size. As well you have to take into consideration if your property is part of a Homeowner Association as they might require an additional permit, or neighbor consent before you can build your patio cover. Be sure to check with your local building department, and HOA (if required) before you start your project, this could save you money by avoiding any penalty fees for not having a building permit.
What is the next step?
Give us a call today to (619) 882 – 9309 or Send Us a Message Online and one of our experienced team members will get back to you as soon as possible. You can rest knowing that you will be in expert hands that will provide you with a quality project that will last for years to come.
Where can I find additional information?