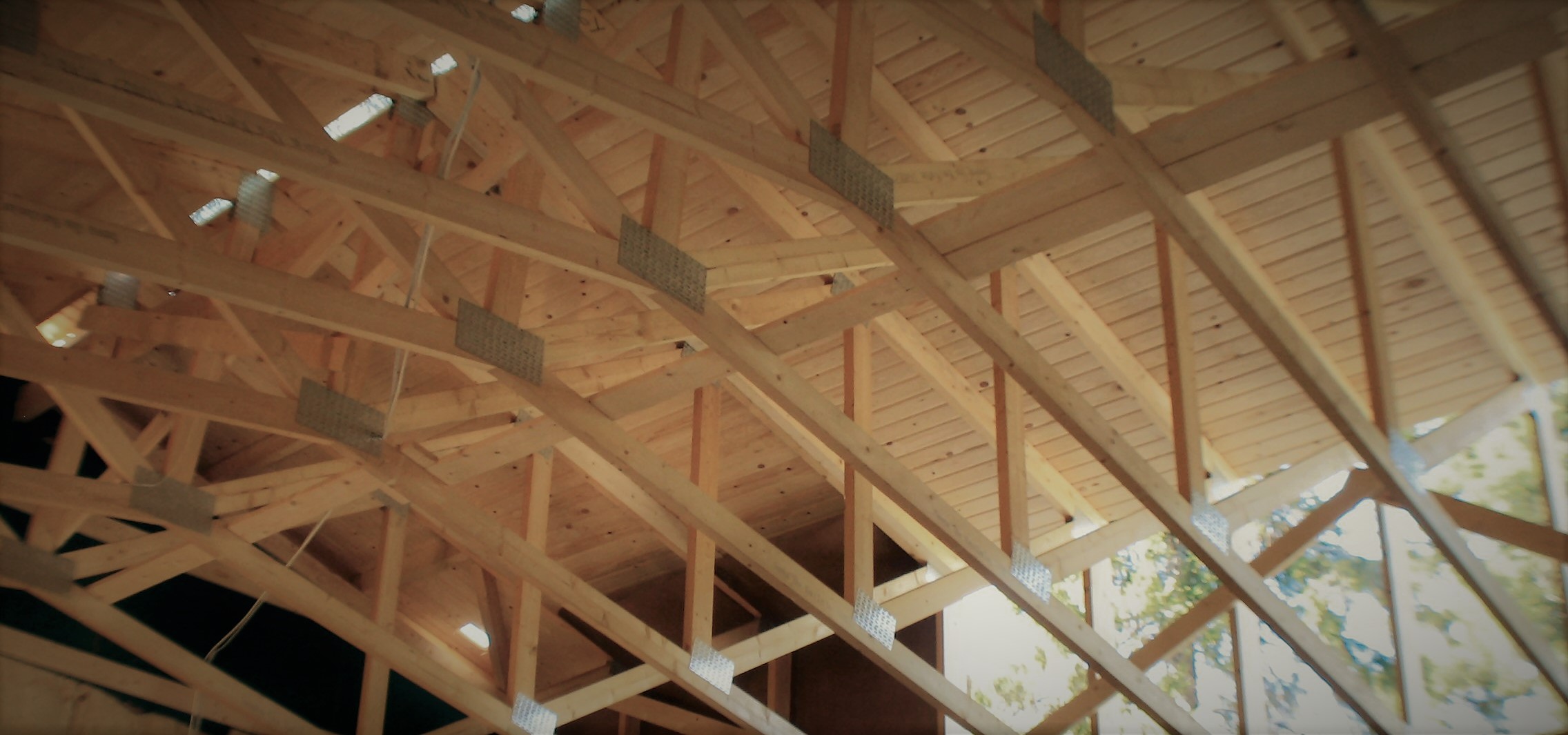 Proper Roof Truss Selection & Installation for San Diego Properties
Project developers in new residential construction are always looking for ways to provide a better cost for its customers while not jeopardizing the structural integrity of the building. A roof truss is a structural premanufactured framework of members (made from steel or timber) designed to provide support for the roof and to transfer their load onto the load bearing walls where they are supported at. They are a great option for owners, contractors and architects as they minimize the labor required on site, the problems / hazards that could occur, and the extra tools that would be required to frame a common roof.
Do not think that they are hard to obtain neither, as many times small roof truss systems are available on stock at local lumber yards and some big box home improvement centers, which works great for small projects that do not require an engineer. Although it is highly recommended, and many times required that a structural engineer recommend which type of truss system needs to be used. As well there is not a big price difference from purchasing a pre-manufactured truss system and the lumber required to frame a same size common roof system.
Although they will normally take around one-third of the time that would take for a conventional roof, they are dangerous to install. For this reason, it is highly recommended that a licensed and experienced contractor like GC Framing installs any roof truss systems. Before any truss is installed it is best-practice to double check all of them for any damage, excessive bowing, broken members, loose plates, etc., as well as to count them to be sure that the required material is there for the project. Make sure that no drilling, cutting or any other procedure that might damage the chords of webs of any truss occur as this will diminish the ability of the system to perform its structural support functions. As well the process of lifting the trusses to the top of the structure has to be done correctly to avoid damage, avoiding specially laying the truss on its side and using the webs to drag it up. It is best to use a proper hoist system or a crane to get them to where it is needed, making sure of course of properly supporting them before any movement is made.
Installation of this systems require that you follow the engineer or manufacturer's directions, however a common recommendation given is that spacing between rafters be about 24 inches on-center. For proper installation of roof truss systems there is two types of bracing that is required, temporary and permanent bracing. Temporary bracing is used to hold in place the roof truss system during the installation process. This bracing is to be in place until Permanent bracing is installed, which is what will stabilize the trusses for the life of the structure. Bracing for roof truss systems is manufactured by companies like Simpson Strong-Tie and they normally offer them in different types of coatings like G90 Coating, ZMax Galvanized Coating and Stainless Steel.
In today's modern construction, safety is the first concerns of everybody involved in the project, for this reason you have to make sure that you select the correct truss type. As mentioned before this is regularly the task of the structural engineer or roof designer. They take into consideration the location, environmental conditions, load requirements along other factors in order to select the best types of trusses to be used in the system. By doing so the roof will be able to sustain the loads that it requires and have a long life-span that will last for multiple generations. Some of the main truss types include:
Girder Truss

Used to provide structural load support.

Gable End Truss

Provides an end wall for the roof and works as a shear wall as well.

King Post Truss
Queen Post Truss
Hip Jack Truss
End Jack Truss
Valley Truss
And Many More (see picture below)
If you need assistance with your roof truss system installation or have any questions about our process, do not hesitate to contact GC Framing at (619) 882 – 9309 or via our Online Contact Form. One of our representatives will get back to you as soon as possible to answer any questions or concerns you might have. We currently serve the greater San Diego county area and provide complementary no-obligation estimates for your truss installation, framing, rough carpentry or painting project.